About Us
Established in 2001 with an intention of providing solutions for RECYCLING, REFUSING, REDUCING & REUSING Waste Water from various domestic & industrial activities. ENVICARE TECHNOLOGIES PVT. LTD. has grown to be a world leading solution provider for water and wastewater treatment with offices in Pune, Malaysia & Dubai.

Our team of highly skilled & dedicated Engineers, Managers, Consultants & Technicians is led by Mr. Mangesh Surve (Chemical Engineer) the Managing Director of the company who has deep knowledge & has 22 years of total experience in this field. He has been felicitated by many prestigious awards including the Japanese Government for excellence in business processes & quality standards.


We would like to share our core expertise in this field of water and wastewater treatment from last 20+ years .

Nowadays Envicare became an international brand with offices in Dubai & Malaysia with Mission - Saving an Environment from pollution and thus people from diseases.

We have been awarded a lot of projects from well-known companies in India like - TATA's, Mahindra's, Kirloskar's, KSB Pumps, L&T, Godrej, GE, 3M, Kehein Fie and many more. This date we have more than 750+ Clienteles base in India and abroad as in Saudi, Dubai, Ajman and Oman.

We are one of the companies in this field who is having their own R&D (Laboratory) facility at work. At the offer stage only we are carrying out detailed analysis and treatability work that gives confidence to the clients about the final results from the proposed plant.
With these core expertise we have easily accomplished the jobs with Indian (Tata Ltd) American (3M Ltd) , German (KSB Pumps Ltd.) and Japanese (Kehein Fie Ltd) management based companies.
With our own core team of 40 people and associate, fabricators, system integrators, and contractors we can easily accomplish any job related to water and waste water treatment in any part of the world.

We strongly believe in maintaining good business relationship with our clients and suppliers for years to come for mutual benefits.

To be a company creating sustainable & innovative technologies and serving 5000 no of happy customers by 2024. Till date we have successfully commissioned 1000 + plants for over 500+ clients including TATA Motors, PEPSICO, 3M (I) Ltd, KSB Pumps Ltd, BARC, Tata Technologies, TAL Manufacturing Co., L & T, General Motors, General Electric, Godrej, Mahindra, Kirloskar, Emerson Technologies, Bridgestone, Kehein Fie, BG Shirke, Wipro, Liebherr, Bonatrans and many more.
We have experience of international business with presence in Malaysia & Dubai. Containerized Plants known for their portability & plug-n-play feature exported to Bangladesh, Madagascar & Middle East. We've been instrumental in recycling well above 5000 million litres of waste water produced from various Industrial & Domestic activities.

In Our relentless pursuit of quality products and services, We have achieved the following Registrations / Certifications :
Indian Water Works Association (IWWA) - Life Organization Member.
American Water Works Association (AWWA) - Corporate Member
ISO 9001 : 2015
NSIC - D & B - SMERA.
MCCIA – Esteem Associate.
We are one of the few organisations in this industry who boast of our own R & D facility named AQUA Laboratories which follows ISO guidelines for water, waste water & effluent testing.
Effluent Treatment Plants (ETP) - Industrial waste Water of all ranges

Batch Type
Container Type
Packaged – MS Fabricated Type
Civil Type
Sewage Treatment Plants (STP) - For Industry, Housing Societies, Malls, Hospitals, IT Complex etc.

Container Type
Packaged Type
Civil Type
Manual and semiautomatic operation
Demineralized (DM) Water Treatment Plants (Automatic / Manual)- Industrial Process applications

Skid Mounted
Containerized type
Industrial Reverse Osmosis (RO) Plants- Fully automatic

Drinking Water treatment plants
Process Water treatment plants
RO + DM Water treatment plants
Water Treatment for Special applications
Filter Press and Bag Filters – ETP, STP and Chemical Sludge Handling

Sludge Handling applications
PP recessed types
Water Softening Plants (Automatic / Manual)- Domestic and Industrial applications

Manual and Automatic operations
Oil Skimmers- Belt and Disc types
Envicare system and services Quality and customers' satisfaction is the primary goal of our company.
Being ISO 9001:2015 we are quality conscious organization and pay full attention to total quality management system in our industry. While focusing on quality, we manufacture Water and wasteWater treatment equipment's of premium quality. Products offered by us are custom designed using raw materials of premium quality sourced from trusted and registered vendors. Treatment plants developed and exported by us is stringently testes for quality by efficient quality analysts working with us at each stage of product development. All quality-testing acts are performed in accordance to international quality parameters designed to meet international standards of quality.
We have following Registrations / Certifications to improve our quality and services :
ISO 9001 : 2015
NSIC - D & B - SMERA
MCCIA – Esteem Associate
Indian Water Works Association (IWWA) - Life Organization Member
To be known as a company feeling responsible for water globally.
While doing business our company stands for the Big social cause of reducing pollution and many times take participation in awareness campaign, tree plantation, plastic pollution control, Rotary social meets and many more such things to save our mother Earth from pollution. Our mission has become the driving force to do something Larger than Life.
Lets care together!!
Contribution : Consistently feeling responsible for safety of water globally.
Growth : Working towards achieving bigger results continuously.
Passion : Passion to win and be the best whatever we do.
Innovation : Creating the sustainable technologies for better tomorrow.
We have understanding that our core values are nothing but the foundation of our organization and we mean to keep them intact during transformation of our organization.
We are the core team of 30 no of team players comprises of Project Engineers, Purchase Engineers, Design Engineers with latest design software, Proposal Engineers, Accountant, Project Site Technicians along with the backup supports of Fabricators, System Integrators, Consultants, Design Experts, and Site Supervisors along with availability of all tools, tackles and required infrastructure enables us to execute the job at unmatched speed, quality and reliability. As described earlier our team is very well trained and equipped to handle the National andInternational clients like TATA (Indian), 3M (American), Kehein Fie (Japanese), KSB Pumps (German) We have got experience to carry the Erection and Commissioning of WTP and WWTP in any parts of India and world.
Our products are backed-up with service by our own service team and some time by suppliers expert technicians. These people have superb experience in trouble shooting and solving all types of challenges in the plants. Each member of our sales & service team has undergone comprehensive product training and is constantly updated on introduction of new products to meet customers demand in shorter time. Our dedicated service department shall keep the track record of the plant and time to time alert the clients. Also we are providing along with self-help Operational and maintenance manual to understand the Challenge area and can take innediate actions. Now days we are coming with Remote Monitoring Systems (RMS), which is, internet based programmed system which keep total operational records of the plants and inform the client to take care on periodic basis. All plant related data can be easily accessed at your figure tips. We take Annual Maintenance Contracts (A.M.C.) of all kind of Water treatment plants, which includes operational contract by keeping operator, periodical expert visits and preventive maintenance of the plant.
We have our own ISO 9001 : 2015 - R&D Laboratory Facility in Pune, India - namely Aqua Laboratories. Laboratory work help us to understand the contents of Water and waste Water in terms of impurities and subsequently which help us to carry out the appropriate treatment to decide the right methodology for treatment and techno-commercial feasibility of Water. At proposal level only we insist in carrying out the treatability studies ( Studies which determine selection of proper treatment scheme ) based on the nature of wasteWater. Along with working for wasteWater analysis we are offering the services of checking potability of Water for drinking aspect to help the society. These services also offer us the great insight to understand the operational issues of any Water and waste Water treatment plants activities.
Following types of analysis are carried out
Physical tests – Colour, TSS, Turbidity, Oil and Grease, etc
Chemical tests - pH, TDS, Cl, SO4, COD, BOD, Fe, All heavy metals, etc
Bacteriological tests – MPN, eColi, etc
For details about Laboratory please visit – www.aqua-lab.in
20 + Years of experience in Water and waste Water treatment
Own R&D Laboratory
750 + Clienteles
1500 + Installations
Following ISO 9001 : 2015 Management System
Recycled 2000 + Cr Lit Waste Water
International O ice in Dubai and Malaysia
Registration under MSME Micro, Small and Medium Enterprises
The National Small Industries Corporation NSIC Certified
Life Organisation Member Indian Water Works Association
Esteem Association mccia
International Business Experience
NSIC-SMERA-DNB Accreditation
Member of IWWA and MCCIA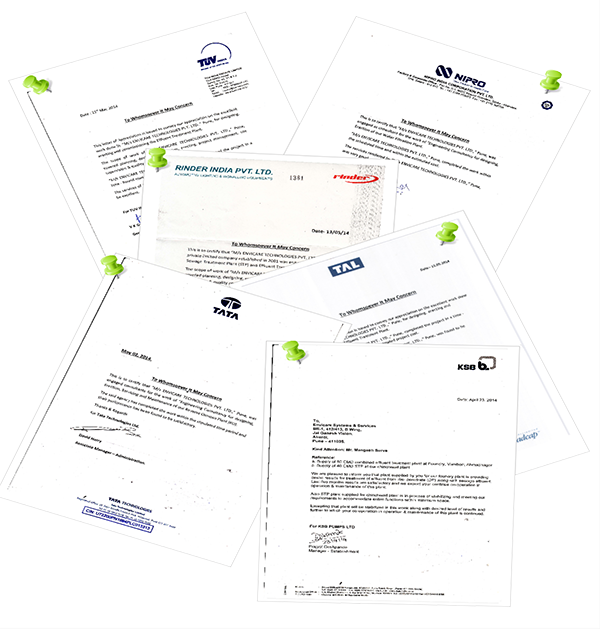 BANK NAME: Union Bank of India
BRANCH : Nigdi 
ACCOUNT NUMBER : 560361000022873
IFSC : UBIN0916757
PAN : AOVPS9944J
GSTN : 27AOVPS9944J1ZP
BANK NAME : Kotak Mahindra Bank.
BRANCH : Chinchawad
ACCOUNT NUMBER : 9311314592
IFSC : KKBK0000725
PAN : AADCE3322K
GSTN : 27AADCE3322K1ZR