Sewage Treatment Plants
We Design, Fabricate, Supply, Erection and Commissioning Sewage Treatment Plants (STP) for treating sewage generated by Industry, large colonies, Hotels, Hospitals, IT Parks and commercial buildings.
Now a days the Sewage Treatment Plant (STP) became statutory requirement of all the State Pollution Control Boards, everybody, whether Hotelier or Industrialist were looking for economical, easy to install and operate compact type Sewage Treatment Plant. Since the land is extremely expensive, very few industries could afford the large treatment units as recommended by most of the Consultants.
We are being pioneer in the field from last 15 years and always in the search of latest and techno-commercially viable technology, system by which the need of the society can be easily satisfied.
The Principle
Its working on the principle of Aerobic Treatment with the help of aerobic bacteria, which is most conventional and proven method throughout the world. Envicare's Modified Septic Tank (MST) Systems – Its works on principle on anaerobic digestion.
Technologies Used
ASP : Activated Sludge Process
MBBR : Moving Bed Bio reactor
SAFF : Submerged aerated Fixed Film
SBR : Sequential Bioreactor
MBR : Membrane Bio Reactor
Typical Flow Sheet Diagram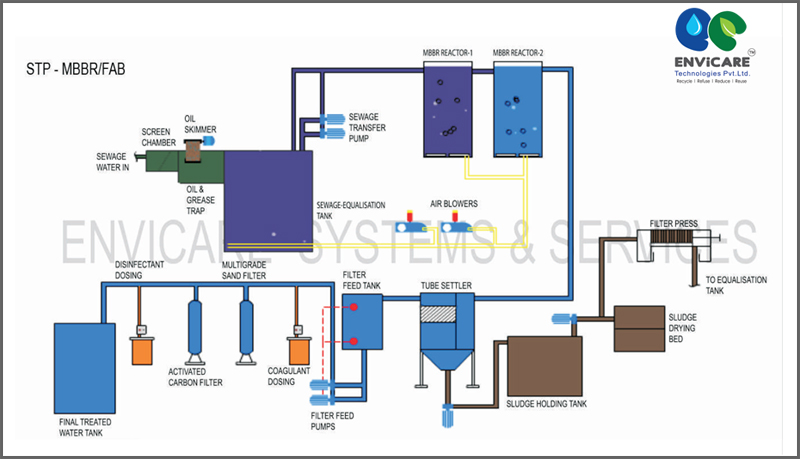 ---
Envicare Offers following STP
STP Containerised Type
Capacity : 25 – 150 KLD
Technology : MBBR / SAFF / MBR
Features :
Semi-automatic Operation.
Required less space as compared to conventional design.
Very Compact and Great aesthetic.
Reduced Installation and commissioning time on site.
Plug and play operation.
Easy Dismantling and transportation.
Standard and made to order product.
Civil Work – Collection Tank and Container Foundation.
Typical Industries : IT Complex, Hotels & Restaurants, Labour Camps, etc.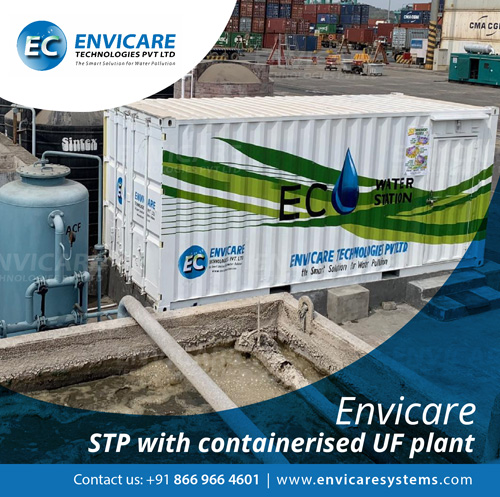 ---
STP Package Type
Capacity : 25 – 250 KLD
Technology : MBBR / SAFF / SBR / MBR
Features :
Semi-automatic Operation.
Easy to transport & Installation
Erection and commissioning by Trained and experienced Envicare Team
MOC of Tank = MS-FRP (Coated) /MSEP.
Completely above ground Installation.
Only Sewage collection tank in Civil (RCC)
Typical Industries : Medium Scale Industries, Housing Complex, Labour Camps, etc.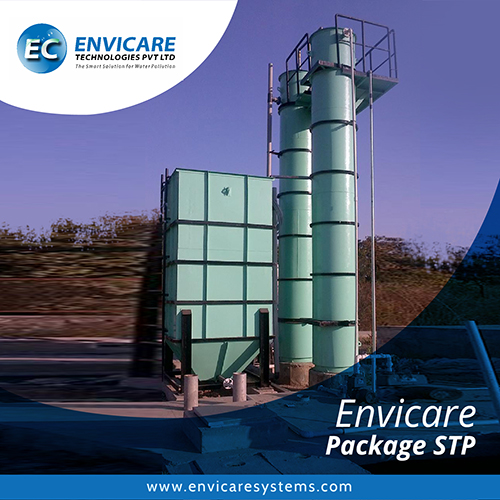 ---
STP- Civil Type
Capacity : 25 KLD TO 5000 KLD
Technology : ASP / MBBR / SAFF / SBR / MBR
Features :
Semi-automatic Operation
Minimum Maintenance Required
Underground Civil Work ( RCC ) Construction
Erection and commissioning by Trained and experienced Envicare Team
Treated Water can use for Irrigation, Gardening, Flushing Purpose
Typical Industries : Large Societies, Hospitals, Hotels, Large Industries, Commercial Complex.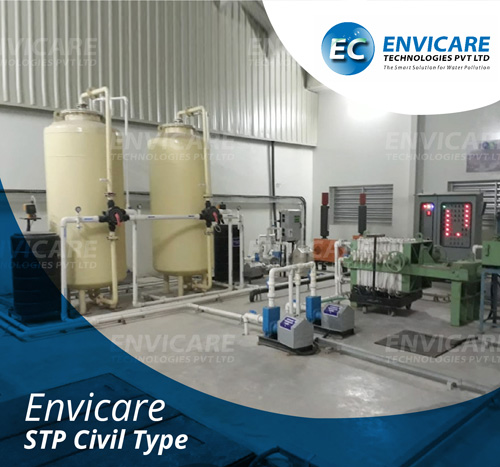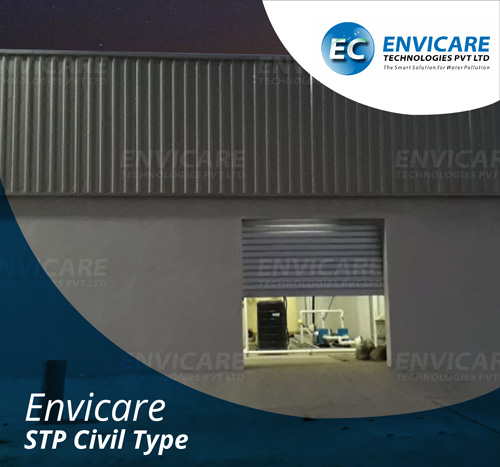 ---
STP Compact Modular Type
Capacity : 1 to 15 KLD
Technology : SAFF / MBBR
Features :
Fully Skid Mounted
Semi-automatic Operation
Very Compact, required less space.
Can mount in 4-5 working days on site.
Easy Dismantling and transportation (In assembled conditions)
Process Tanks – In Civil ( RCC / Brick )
Typical Industries : Schools, Small Scale Industries, Small malls, Bunglow, Restaurants, etc.
---
Questionnairs for designing proper solution in Sewage Treatment (STP):
SR
#


Description

Your Comments

1

Name of the Party with detailed Official address with concern person name and contact nos ?

2

Site address in detail where this plant is going to Install / Operate ?

3

Are you end user of this project ? (If not, please send us your details by filling the channel partner form, we shall review and come back to you)

4

What is the basic purpose of installing the system ? - Govt regulation / Strong need for recycling / To get PCB consent / Caring environment

5

Nature of your Industry? Residential / Manufacturing / IT Complex / Restaurant / Hotel / Hospital / Mall / Any Other?

6

New project OR Modifications / Upgradation in existing system (Please provide details about existing system as - Pictures, Capacity, BOQ, etc.

7

Total No of Workers / occupants / staff / people thoes are going to use this project?

8

Expected total quantity of Sewage generated on daily basis (Lit / day)?

9

Space availability- Allocated area in terms of Length X Width X Height (in Meter)?

10
Any specific Technology- ASP / MBBR / SAFF / MBR / Anaerobic / CW / Act-Fast ? etc
11
Types of Sytem : Civil / Containerised / MS-Package / Compact-Modular ?
12
Output Treated Water Quality in terms of TSS & BOD (Or attach specific requirement)
13
Final usage of treated Water - Gardening / Toilet Flushing ?
14
Do you have your own civil construction contractor / team ?
15
When you are expecting to start this project, date ?
16
How do you came to know about Envicare? ( Any specific reference )
Above data is compulsory to understand your requirement and to proceed further.
Manufacturer, Supplier, Exporter of
We are solution provider company in water and waste water treatment and majorly we serve our products for customers in National : Maharashtra, Delhi, Chennai, Kolkata, Bangalore, Karnataka, Madhya Pradesh, Gujarat, West Bengal, Assam, Odisha, etc International : Dubai, Oman, Saudi, Ajman , Mauritius, Madagascar, Bangladesh, Ethiopia, Malaysia, etc.